The Original 10 Care Bears
Tenderheart Bear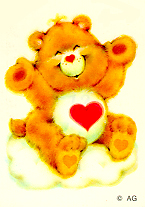 I'm Tenderheart Bear, and it's my job to help people reach out to each other. I say that love is a warm, fuzzy feeling, so go ahead and share it.
Cheer Bear
I'm cheer Bear, and if you're sad or not feeling well, I'll slide down a rainbow and make you feel better.
Funshine Bear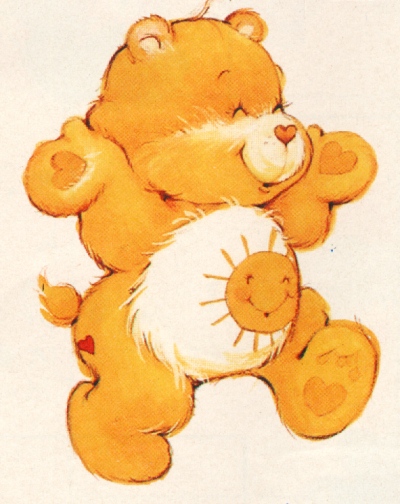 Smile! I'm Funshine Bear, so there's a great, big, happy sun on my tummy to remind you to laugh and look at the lighter side of things.
Grumpy Bear
Grrr! I am Grumpy Bear. There's a cloud on my tummy to show that I take the grouches away, so you can be happy again.
Birthday Bear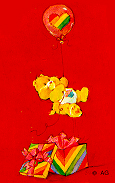 Don't count the numer of birthdays. Count how happy you feel. I'm Birthday Bear, and I'll help make your birthdays the best ever.
Bedtime Bear

It's my jot to bring you sweet dreams. I'm Bedtime Bear, and right now I'm a bit sleepy. Are you sleepy too?
Friend Bear

If you're ever feeling lonely, just call on me, Friend Bear. See, I've got a daisy for you and a daisy for me.
Wish Bear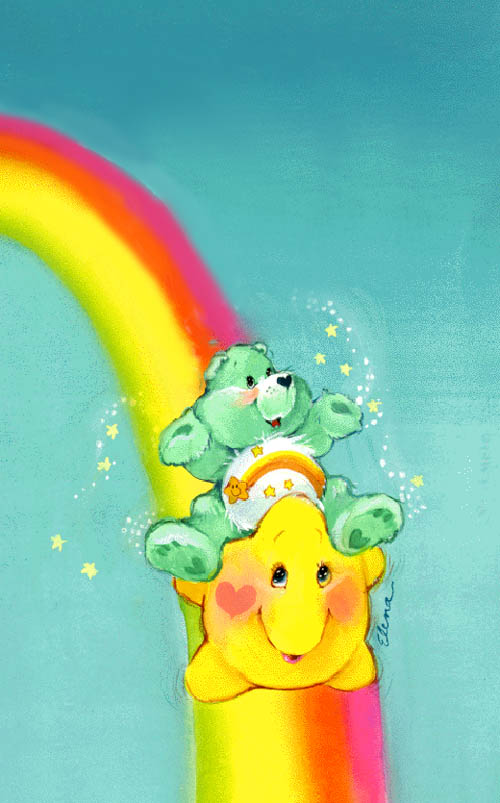 My favorite
Wish Bear
The bear with the large wishing star on her tummy is Wish bear. She works to make people's wishes come true. She's slow moving, carefree kind of bear who believes that there's not a worry in the world that a wish won't wipe out.
goodluck Bear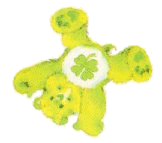 You're in luck 'cause it's me, Good Luck Bear. that's why I'm wearing a four-leaf clover.
Love-a-lot Bear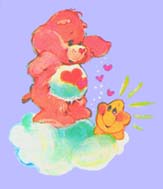 I'm Love-a-Lot Bear. I have two hearts on my tummy. One is for you; the other is for someone you love.